1. Juan Li, Yuchen Tian, Dingying Shan, An Gong, Leyong Zeng, Wenzhi Ren, Lingchao Xiang, Ethan Gerhard, Jinshun Zhao, Jian Yang, Aiguo Wu*, Neuropeptide Y Y1 receptor-mediated biodegradable photoluminescent nanobubbles as ultrasound contrast agents for targeted breast cancer imaging. Biomaterials, 2017, 116, 106-117.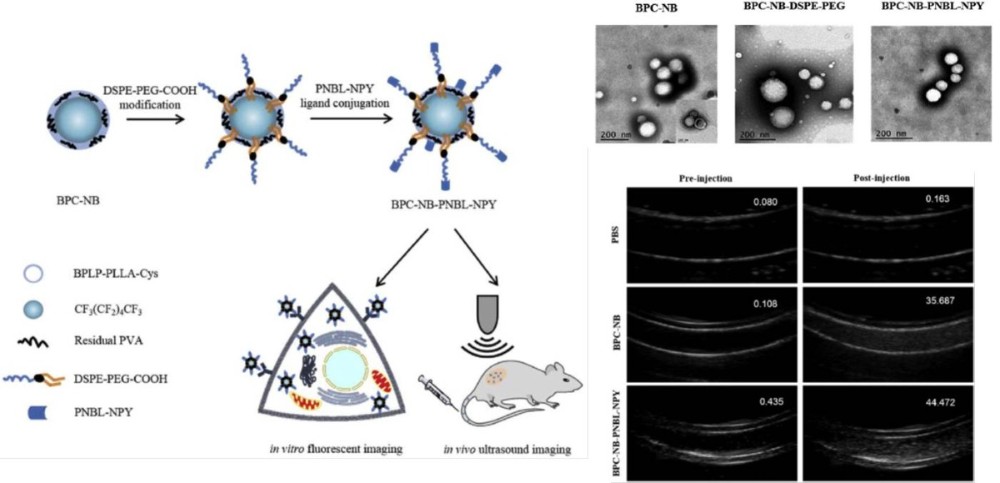 2. Jie Feng, Limin Chen, Yuanzhi Xia, Jie Xing, Zihou Li, Qiuping, Qian, Yan Wang, Aiguo Wu, Leyong Zeng*, Yunlong Zhou*, Bioconjugation of Gold Nanobipyramids for SERS Detection and Targeted Photothermal Therapy in Breast Cancer. ACS Biomater. Sci. Eng. 2017, 3, 608−618.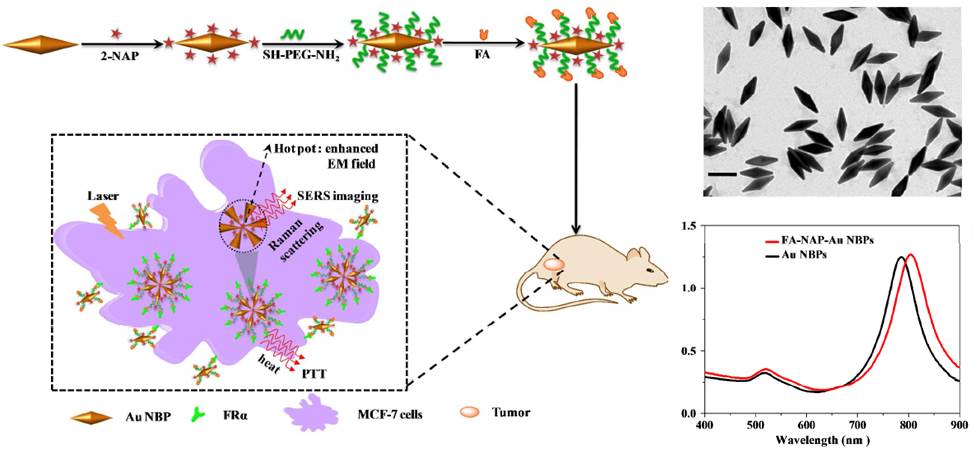 3. Zheyu Shen, Aiguo Wu*, Xiaoyuan Chen*, Current detection technologies for circulating tumor cells. Chem. Soc. Rev., 2017, 46, 2038-2056. (Review)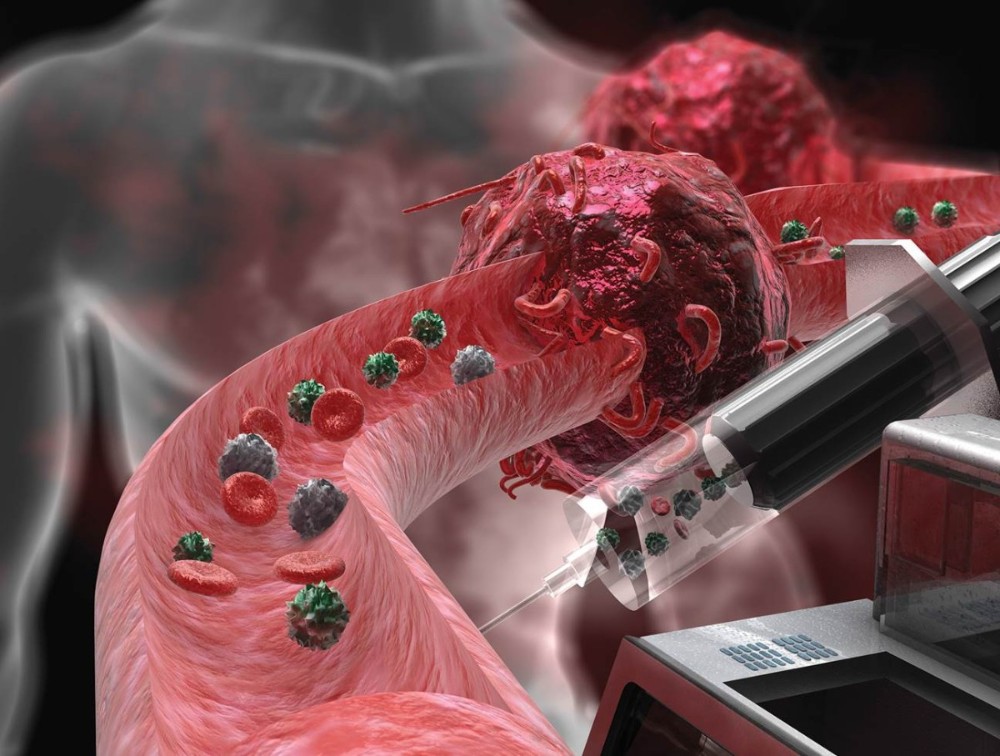 4. Zheyu Shen, Aiguo Wu*, Xiaoyuan Chen*, Iron Oxide Nanoparticles-based Contrast Agents for Magnetic Resonance Imaging. Mol. Pharmaceutics 2017, 14, 1352.1364. (Review)

5. Zhuangwei Zhou, Yujie Zhang, Jingyan Kang, Chen Dong, Ningyi Chen, Xing Li,* Zhiyong Guo, Aiguo Wu*, Detection of herbicide glyphosates based on an anti-aggregation mechanism by using unmodified gold nanoparticles in the presence of Pb2+. Anal. Methods, 2017, 9, 2890–2896.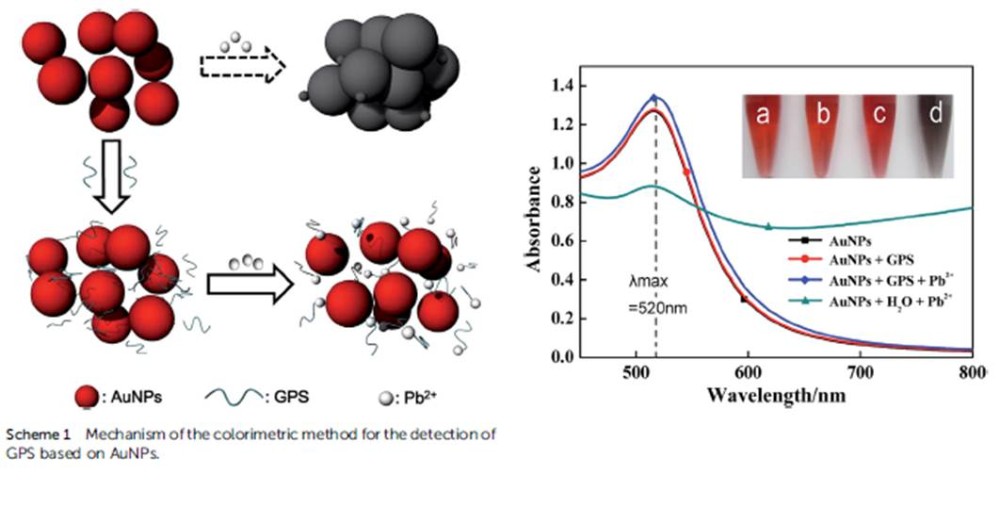 6. Zheyu Shen, Tianxiang Chen, Xuehua Ma, Wenzhi Ren, Zijian Zhou, Guizhi Zhu, Ariel Zhang, Yijing Liu, Jibin Song,* Zihou Li, Huimin Ruan, Wenpei Fan, Lisen Lin, Jeeva Munasinghe, Xiaoyuan Chen,* Aiguo Wu*. Multifunctional Theranostic Nanoparticles Based on Exceedingly Small Magnetic Iron Oxide Nanoparticles for T1‑Weighted Magnetic Resonance Imaging and Chemotherapy, ACS Nano 2017, 11, 10992−11004.
7. M. Zubair Iqbal, Wenzhi Ren, Madiha Saeed, Tianxiang Chen, Xuehua Ma, Xu Yu, Jichao Zhang, Lili Zhang, Aiguo Li, Aiguo Wu*. Facile fabrication route for binary transition-metal oxides Janus nanoparticles for cancer theranostic applications. Nano Research, DOI: 10.1007/s12274-017-1628-x.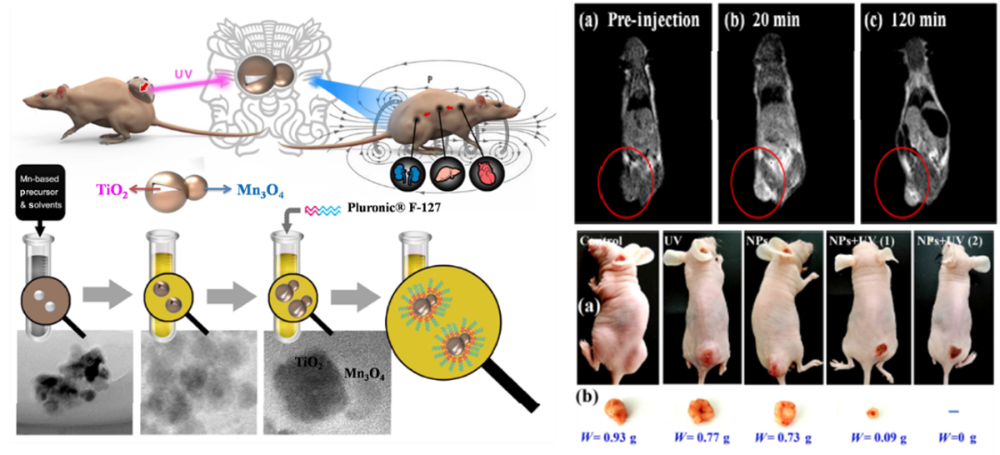 8. Leyong Zeng, Di Wu, Ruifen Zou, Tianxiang Chen, Jinchao Zhang*, Aiguo Wu. Paramagnetic and Superparamagnetic Inorganic Nanoparticles for T1-Weighted Magnetic Resonance Imaging. Current Medicinal Chemistry, 2017, 24, 1-17. (Review)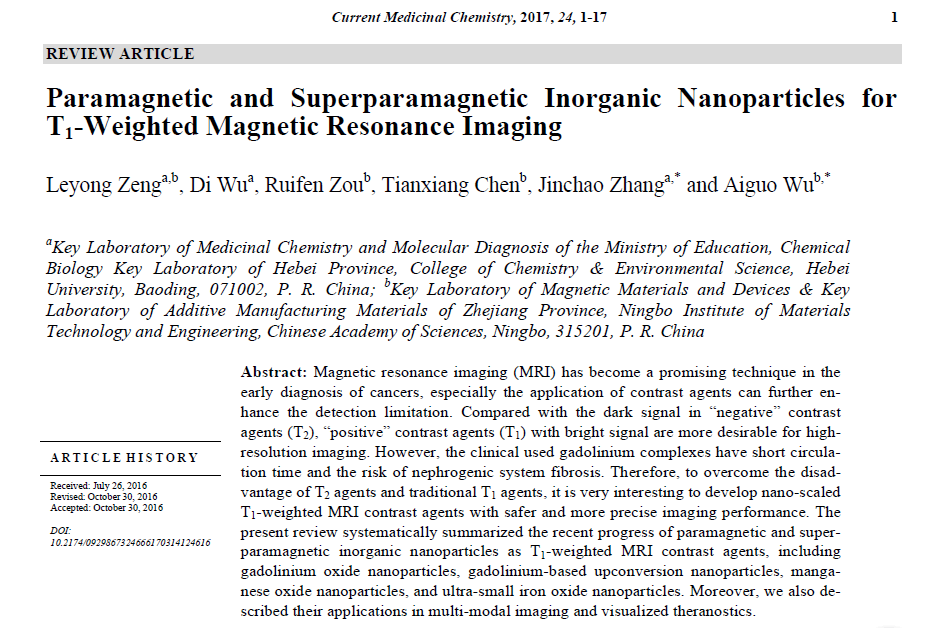 9. Lijia Luo, Rui Shu, Aiguo Wu*. Nanomaterial-based cancer immunotherapy. J. Mater. Chem. B, 2017, 5, 5517-5531. (Review)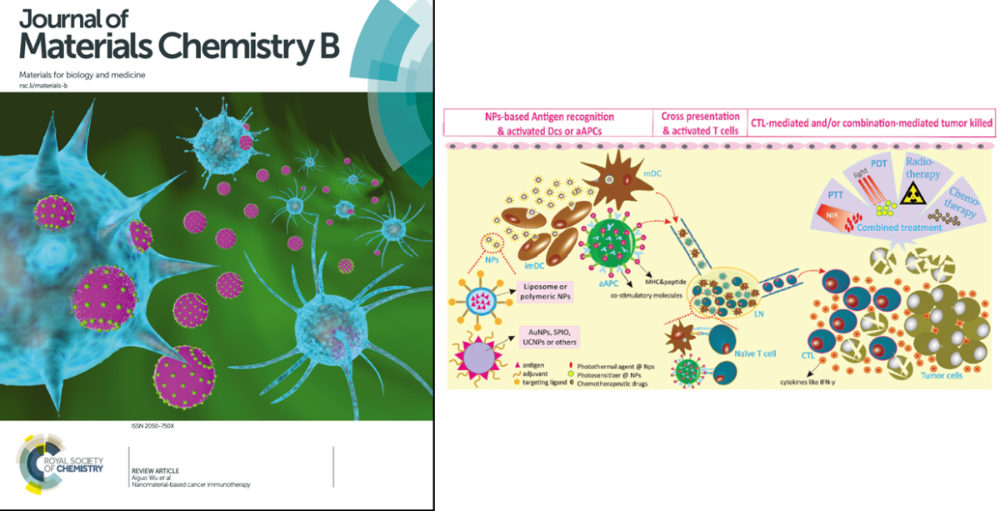 10. Wenzhi Ren, M. Zubair Iqbal, Leyong Zeng, Tianxiang Chen, Yuanwei Pan, Jinshun Zhao, Hao Yin, Lili Zhang, Jichao Zhang, Aiguo Li, Aiguo Wu*. Black TiO2 based core–shell nanocomposites as doxorubicin carriers for thermal imaging guided synergistic therapy of breast cancer. Nanoscale, 2017, 9, 11195-11204.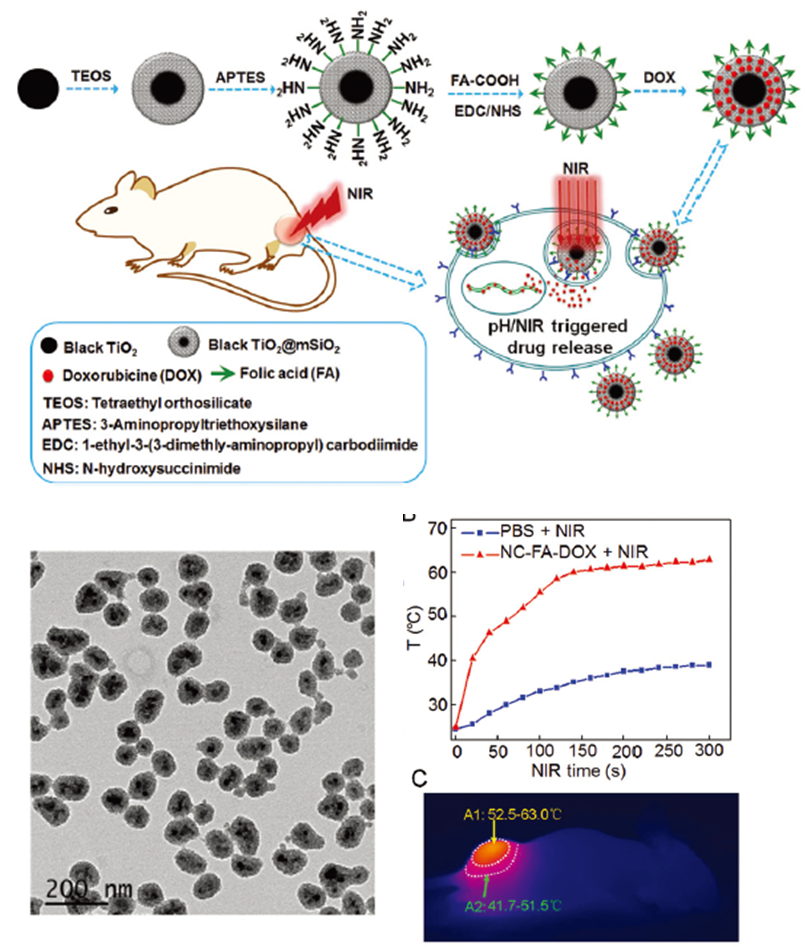 11. Chen Dong, Zhuqing Wang, Yujie Zhang, Xuehua Ma, M. Zubair Iqbal, Lijing Miao, Zhuangwei Zhou, Zheyu Shen, Aiguo Wu*. High-Performance Colorimetric Detection of Thiosulfate by Using Silver Nanoparticles for Smartphone-Based Analysis. ACS Sens. 2017, 2, 1152−1159.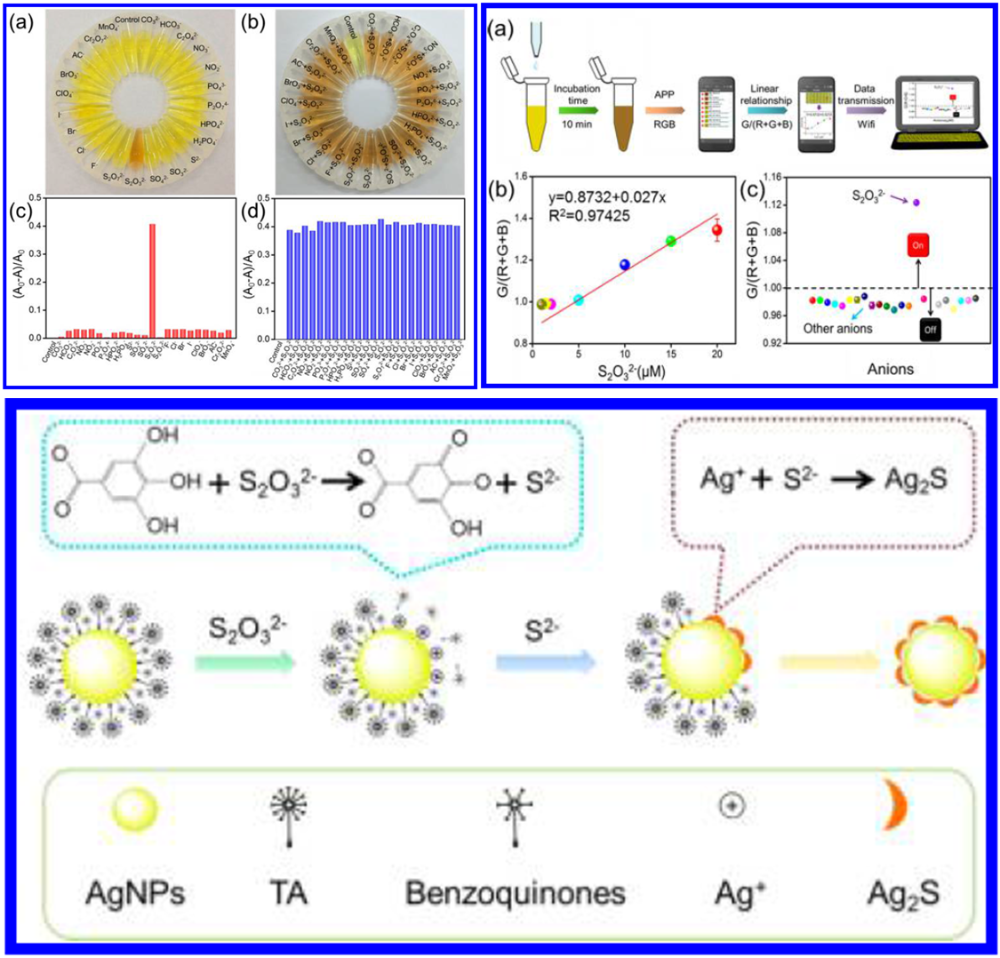 12. Li Wang*, Yujie Zhang, Aiguo Wu, Gang Wei*. Designed graphene-peptide nanocomposites for biosensor applications: A review. Analytica Chimica Acta, 2017 , 985, 24-40. (Review)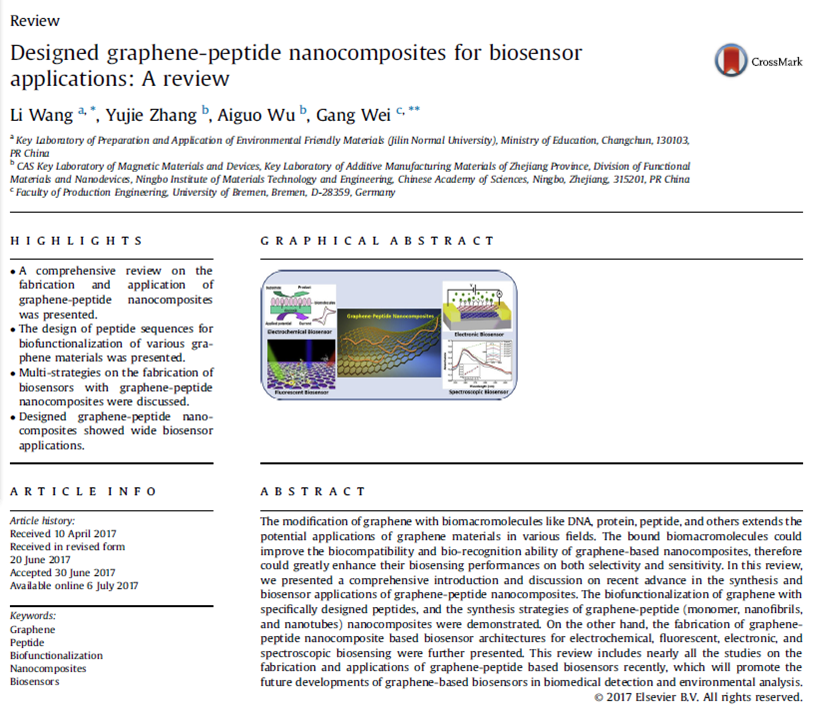 13. Naveed A. Shad, Mehvish Zahoor, Khizra Bano, Sadia Z. Bajwa, Nasir Amin, Ayesha Ihsan, Razium Ali Soomro, Adnan Ali, M. Imran Arshad, AiguoWu, M. Zubair Iqbal, Waheed S. Khan*. Synthesis of flake-like bismuth tungstate (Bi2WO6) for photocatalytic degradation of coomassie brilliant blue (CBB), Inorganic Chemistry Communications, 2017, 86, 213–217.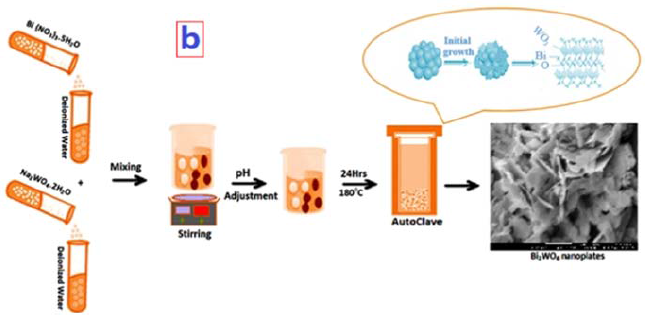 14. Jianjun Zheng , Wenzhi Ren, Tianxiang Chen , Jin Yinhua, Aijing Li , Kun Yan , Yijiao Wu , Aiguo Wu*. Recent Advances in Superparamagnetic Iron Oxide Based Nanoprobes as Multifunctional Theranostic Agents for Breast Cancer Imaging and Therapy, DOI: 10.2174/0929867324666170705144642. (Review)
15. Leyong Zeng, Di Wu, Ying Tian, Yuanwei Pan, Aiguo Wu, Jinchao Zhang, Guangming Lu*. Recent Progress in 808 nm Excited Upconversion Nanomaterials as Multifunctional Nanoprobes for Visualized Theranostics in Cancers, DOI: 10.2174/0929867324666170320115959. (Review)
16. Yufan Ye, Jie Xing, Leyong Zeng, Zhangsen Yu, Tianxiang Chen*, Narayan S. Hosmane, Guangming Lu, and Aiguo Wu*. Fluorescent/Magnetic Nanoprobes of High Specificity for Detection of Triple Negative Breast Cancer, Journal of Biomedical Nanotechnology, 2017, 13, 980-988.